Ephel Duath is some crazy stuff…let me add enslaved & Ulver to your list, metal head…
former Pantera member Darrell Abbott was shot and killed after a gunman storms stage at a ohio nightclub.

Just heard the news from my bro, very sad news. I'm very upset and not many words to describe it. Im not sure whats in store for the future, but i give my sympathy towards the victims and their family

***Thanks for the link


Bad time for music, this actually makes me really sad

, here's a couple other links
Well, falling away from the bad times, try to transcend into good news, I just saw a recent update from the NIN website. Not only that it has a advertisement for their new album coming out May 3. It didnt give me goose bumps, but i will tell you im really freaking excited. This album is about 5-6 years from the Fragile, so im really looking forward to what they have to play. I have to say NIN is one of my favorite bands in music today, and i love catching up with all their news and rumors. so check it out https://nin.com/current/index.html
Other than that, im not sure what else is new in the Music world, i just know about this one project with Les Claypool, Danney Carrey, and another artist and a trio band, forgot the name I think it was side one or something i forgot. Still surfing the net and looking for the return of awesome music.
Im happy to say and send a link from a website to bring you the new NIN SONG! Listen to it, im not sheding any opinon



winamp.com/music/browse.php?mtype=M&genre=6
Click that, and go to MUSIC (on the top), then click Hard Rock on the left side. Scroll down to the third band and click : Nine Inch Nails
Last updated: Mar 15th, 2005

The Hand That Feeds
Enjoy

Just clicked my old link on top of this page, and they have the new line up for Ozzfest 2005. Iron Maiden is the main event except Black Sabbath ofcourse. Here's the link
https://ozzfest.com/bands.html
Music Thrives, 2005!
P.s. Plus** Black Label Society*
sper joint ritual is good they had some black metal grind core going on. nice then they went southeen metal yippee. but pantera is one band i can never stop listening too they paved the way for soo much.
I forgot to post here about the Maiden news, but I'm so hyped about it, should be great

Sure, just leave me out of the loop

Hehehe, sorry

Just went to a great concert recently, about 6 days ago. Im sure i already told you about this band, but no harm telling you again. I saw George Clinton and Parliament Funkadelic, and Bernie Worrell the old keyboard player showed up. Like always the show was awesome, theyplay about 3-5 hours and no breaks inbetween. The concert i went to recently was probally the most different and coolest. They had everyone sing in the band, i mean everyone, i like the sax player, drummer, even Sir Nose sang, it was hiostory, They played so much music from Funk, to Dark funk, rap, hip hop, classic rock, trance rock, rock and roll, swing, metal, even blues, they have so much style it's the place to be. If you have a chance to see this band, if i were you i would take advantage of it and see them as much as possible. Lucky me though, they came to Florida 3 times in the last 2 years, I think they like us as much as we like them, well the concert went forever, they couldnt even end it.
Great News!



The New NIN ablum is out, and i like it. You could actually listen to it on the internet, for free

. I like it, classic NIN, and towards the end of the ablum it gets really good

I've been waiting awhile for this, and i cant wait untill they tour down here, might go to 2 or 3 shows

Here's a link if you want to listen to the new ablum
https://www.myspace.com/ninofficial
It's called with Teeth
Other than that, i saw Steve Miller Band this last weekend, and it was a great show. I can die a happy man, i never thought i would have a chance to see Steve, the last time they came was 8 years ago. They made my weekend


P-Funk was really good, they have the craziest shows, so many songs, so many memories. IF you like funk or you like to dance you have to see that band, they just have so much soul.
Thats about it for music, more to come, fill me in also, i would appreciate any news or rumors towards music, seeya:)
Wow, it's been about a year since i been to this thread. Well its reopened to talk about bands and the music scene. Alot is going on and im very excited to see all new albums release. Since this last NIN album i have been to 3 shows off the tour.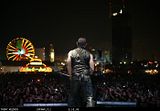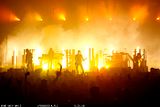 Loads of fun, and I am thinking of https://bonnaroo.com/2006/ only if my wallet agrees. Plus https://slayer.net/ is touring with Lamb of God, and Les Claypool is swinging by. The best news is this fall, yet May 2 is the release of the new Tool album. I heard it and its great, in the fall i believe they will tour East coast of America. Otherwise they are touring in Europe and some parts of the US. Loads of stuff thats in my interest, maybe you like the same.
The idea of this thread is to share what kind of bands you like between metal, hard rock, alternative, Classic Rock, Industrial, anything in the rock genre. Share the band, some songs that you like maybe even stories based of experience with the music. As you can see its pretty open to talk about anything; so shed some thoughts, opinions, and ideas. I'm all ears.
Dosen't all that metal give you guys headaches?
Check out Aesop Rock.
Nah, i can actually sleep to heavy metal full volume. It brings a feeling of Zen. What's Aesop?
nope i study with death metal the technicality increases the focus of everythign around you and heals the stress and pain of headaches and revitalizes the body. IM LOOKING FORWARD TO THE IMAGES OF VIOLENCE ALBUM AND THE NEW GOATWHORE ALBUM.
Yeah, its sad and scary it just shows that this world does have a couple of nuts.
Anyone interested in the new Tool or the band at all?