Get a free pass to the online dreaming event of the year!
application deadline: 22 september at noon GMT
Every year, the International Association for the Study of Dreams hosts an online dreaming conference, called the Psiber Dreaming Conference, or PDC for short. This year's conference will run from September 26 through October 10. Two weeks of cutting-edge presentations, workshops, and discussions with some of the top experts in the field of dreams.
Participants will be able to talk with the presenters, join the online workshops and submit dream related artwork to the online dream gallery.
This year, Roko Beli, the award-winning director of the documentary film on dreams that will accompany the release of the DVD Inception will be the Keynote Presenter.
And someone a lot of you may still know: Nick Cumbo (Explora), founder of Sealife and long time LD4all member, will present a paper called "Invisible Schools", all about the education we receive while asleep.
Two other presenters at the PsiberDreaming conference will be of great interest to lucid dreamers. Beverly D'Urso, PhD, whose lucid dreaming skills caught the attention of Stephen LaBerge to the extent that she spent years of research and also made films with him, will present on "Emotions in Dreams Leading to Self-Realization" ; and Jayne Gackenbach, PhD, one of the pioneers of lucid dream research whose attention has turned to Internet gaming, will deliver a presentation called: "Video Game Play and Dreams: What are the Important Questions?"
I have the privilege of giving away 10 scholarships for the conference to LD4all members.

That means you will get a free access pass to join the conference!
How to be considered for a scholarship?
You just need to apply for the scholarship, and post a motivation why you would like to join this year's conference.
You can apply by posting in this topic, or by PMing me. (note that the people who are granted the scholarship will be publicly announced)
You are especially invited to apply if:* You have stories about your lucid experiences you are dying to share with the dream experts in the field,
You create art based on your (lucid) dreams (whether poems/paintings/stories)
You aren't able to join the conference in any other way (lack of money, etc.).
The scholarship winners will publicly be announced in this topic, and personally through PM.
If you are one of the lucky receivers of the free pass to the PDC, then we would appreciate it if you would write a short report on how you liked it, to be posted on LD4all and on the IASD website.

If you have any Questions, don't hesitate to ask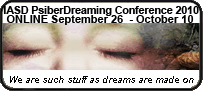 For more information about the PsiberDreaming Conference, go to www.asdreams.org/psi2010/
(More information on presenters and papers will follow in the coming weeks.)
---
First of all, thank you everyone who has applied! I truly have been touched by some of the responses. Luckily I don't have to disappoint too many people. If you haven't gotten a pass this year, then you can still get into the conference the regular way, but it will cost you money ofcourse. (Students get a discount though!)
Now, to get to the important bit:
And the winners are…
in alphabetical order
[size=142][b][color=blue]* aquaboy11
GHOSTIE11
idanl09
KauaiDreamer
leprechaun
Lidybug
Mew151
rcslaney
Siiw
trophycase[/color][/b][/size]
Congratulations!
And I hope you have a wonderful time at the PDC!